Boasting a variety of golf challenges and topography elevations, the Pocono Mountains offer Legendary Golf Escapes with classic accommodations.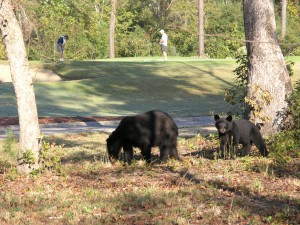 CHALLENGING GOLF WITH BLIND MOUNTAIN SHOTS
The Pocono Mountain has always been a mountain escape for New Yorker's. Due to its caliber of golf, it is no longer known as just a honeymooner's destination, but as a golf classic going back to when acting favorites like Jackie Gleeson learned to play. Golfers head to the Pocono Mountains for a different terrain of golf not found in their backyard. There are collectively over 10 golf courses and 6 hotels, plus condo and townhome rental options at the base of two ski mountains. On the western edge of the region is must play Jack Frost National. This rather long course will challenge golfers of all skills, while also offer incredible views from every angle and the occasional black bear that finds its way out of the brush!
The recently renovated Inn at Pocono Manor is a perfect stay and play solution for golfers of all types. There are two golf courses, an onsite spa, a sporting clay range, and numerous restaurants and bars for groups of any size. Looking for something quainter? Then the Water Gap Inn & Country Club is the place for you with convenience, historic golf and service all wrapped up one. Try a new 'on the way' golf option with Villas Crossing, a traditional layout with placement challenges throughout. Plus there are additional add-on's: Buck Hill Falls, Great Bear, Split Rock, Paupack Hills, Shawnee and the Lynx.
GOLF, GAMBLING AND OUTDOOR MOUNTAIN FUN
The other things to do in the Pocono Mountains make this destination also very memorable. To the state's largest falls at Buck Hill, to the casino at Mt. Airy, golfers won't have a hard time finding something to do off the greens. If you are interested in golf and gambling combinations, please ask for the large group manager at Genesis.