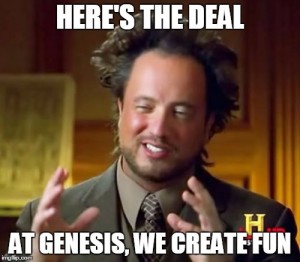 Wake up.  Eat breakfast.  Play golf.  Eat dinner.  Sleep.  Repeat.  In just ten words, I described to you the status-quo for your typical golf trip.
And if you are into that sort of thing that's completely fine.  Have you considered wanting more though?  Adding a little vibrancy to that trip just the thing you are looking for, we have people here at Genesis that take care of that for you.
Meet our Fun Creators
From the second you pick up the phone to call Genesis,  you already made a life-choice that you are asking for more.  Now, let me stop right here and make something very clear; this is not a cliché, stupid sales tactic to get your business over a competitor.  This is real talk.  We value the experiences you have while on a Genesis Golf Trip and so strongly desire to give you that LEGENDARY feeling.  And when your phone line telephonically connects to Genesis, you made your intentions clear; you are looking for more.
The trip technicians at Genesis want to bring you the absolute most out of each trip, each location, and each tournament.  You should be energized heading to your Genesis adventure just knowing that one of our staff truly imprinted YOUR personal touch into your itinerary.  Not ours.  It's not about us; it's about you and your group.  If you are not satisfied, we are not satisfied.  We create FUN at Genesis, not failure.