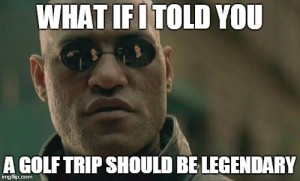 Break the mold of the cookie cutter golf trip.  Here at Genesis we are all about getting you out of that "Package Matrix" and bringing you the most innovative and custom LEGENDARY golf adventure.  It's what makes us different.   How many other packagers go above and beyond like we do to make sure YOU are more than taken care of, we want you delighted with the experience you have from the first phone call to the last golf ball dropping into the final hole.
It gets even better than that.  Genesis is growing.  Our brand is growing, our clientele is increasing and above all our ideas are growing.  We aren't saying that you will be a complete failure if you don't book a trip in 2016…but you will be certainly taking a hit on the amount of fun in your life.  Here's the thing; we don't want to tell you what to do.  You are an adult and we care about your golf trip.  Let's build that custom trip together.   If you want to have dinner at a certain restaurant one night-consider it done.  What's that?  You're group wants to throw in tickets to a local minor league baseball game for an evening?  No problem.  A golf trip should be memorable, not muscle memory.
So here is your chance.  You can take the blue pill and keep the status quo, or, you can take the red pill and we can show you how deep the golf holes actually go.  The choice is always yours but now you know where we stand.  We are here for you to bring you the best.  Give us a call, break the mold, become be a LEGEND.