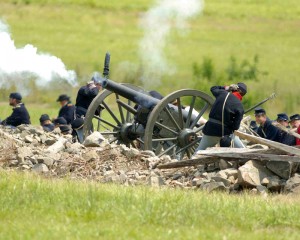 There are few towns in the state of Pennsylvania or let alone the entire country that have as deep a history as Gettysburg.  The fate of our entire nation was decided there and it is still revered as the bloodiest battle in American History.  Gettysburg draws thousands of people all year long for many different reasons; history, education, entertainment, and even golf.  We would love nothing more than to send you to Gettysburg and let you enjoy all of those and more.  So don't fear anything but the ghosts when you check out this incredible location, the golf is great, the food is incredible and the experience is LEGENDARY.
When folks think of Gettysburg, golf may not be the first thing that pops into their mind.  Believe it or not, there some very high-class, beautiful and challenging courses in the Gettysburg region that golfers fall in love with every year, as well as bringing them back time and time again to play through.  One of these courses is the Links at Gettysburg.  Not just a phenomenal golf experience, but also a wedding venue that people flock to every wedding season. (Our very own Genesis team member Tyler was married there this past fall)!  Renown as a challenging yet gorgeous course with impeccable greens, the Links is a course you cannot miss.  The Bridges Golf Club is another featured club of the Gettysburg region that will leave any golf enthusiast speechless.  With rolling hills, a beautiful clubhouse and on-site hotel, The Bridges will not disappoint.  South Hills, Quail Valley, Penn National and Mountain View are all other amazing courses beckoning you to play.  So come check out golf in Gettysburg, you will be happy that you did.
Being that Gettysburg is so rich with history, there are countless tours and attractions one could take and become fully immersed in the Battle of Gettysburg itself.  Intertwined with the history of this town, you will also find great places to eat, drink and be merry.  One example is The Garryowen Irish Pub, an absolute classic spot to stop in for a pint of ale and some authentic Irish foods, all for an affordable price.  Another local classic would be Hunt's Battlefield Fries where you can get amazing fries and cheesesteaks.  After your belly is full, go checkout Mark Nesbitt's Ghosts of Gettysburg Candlelight Walking Tours.  Here you can learn in an intimate manner the deep history behind the battle of Gettysburg as you walk through alleys, homes and buildings traveling back in time.
All this is simply a taste of what one of Southern PA's finest locations has to offer.  Genesis brings you the opportunity to take part in a LEGENDARY golf trip to an already legendary location.  So what are you waiting for?  Don't let the ghosts scare you away, springtime is here and playing golf is in order.  And besides, Ghosts aren't real, except maybe in Gettysburg.