Our Umbrella is Bigger than Most!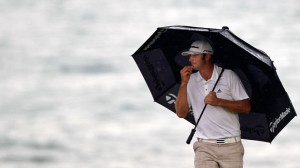 You find out tomorrow's nothing but rain showers or you wake up to the sound of rain outside your hotel window. Most packagers, run by hotels people, don't worry about your weather problems. Genesis however, does. We want your experience to be LEGENDARY.  So, while we must work with the course in question, we do our best to salvage the day too.
We will proactively call around to get a litmus on what's happening in the market, watch the weather radars and ask some hard questions along the way. Our aim is to have your back and keep your trip fun and legendary.  If a course a half hour away is dry and playable, we'll try to move you and make it work for everyone. Remember however, while we service you through these last minute changes, we cannot fund the changes as well. If there are pricing differences for more expensive courses, your group will need to pay the difference. However, we'll do everything to keep playing instead of sulking.
In March or early April, unforeseen snow can hit the ground anytime. Now, the snow melting has an impact on your travel schedule too. Since Genesis is in so many markets throughout the Mid-Atlantic, we have the ability to move groups last minute from one market to another to just sitting , waiting for snow to melt.
Genesis also takes this a step further, by pulling group travel tracking sheets for each weekend when there is a chance of rain in the forecast. That way, we know whom and what we may need to do in order to keep your trip moving flawlessly.
During Your Trip, We've Got Your Back!
Although we would like to think we're perfect, we're all human. For that reason, along with unpredictable weather, we implemented an Emergency Manager on Duty call service during off hours. There isn't anything worse than being on a trip and you can't reach the company or team that put it all together. Never Fear!
Genesis Golf Trips offers its Group Leaders 7-days a week Emergency Manager on Duty (EMOD) service after hours for inclement weather problems. Sometimes you need a little extra help or guidance when it's raining, yet the course isn't officially closed. This is exactly when you call the EMOD phone line. We never want our golfers to feel pressured or their safety threatened.