Manage Your Golf Trip with the Genesis "My Trip" Manager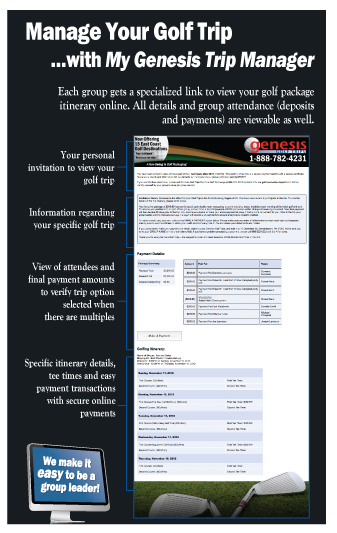 Let's face it, once a trip is booked, having to communicate the details to your friends or colleagues over and over again gets tiring. Add to that chasing down the money, and its like chasing cats.  So, we've developed a tool to make your life easier. We call it the Genesis "My Trip," Manager.
Once your trip is booked, you will get a specialized link to view your golf package itinerary, each course starting tee time, other details, pricing per person for all options required and the group balance due. As soon as friends begin  making payments, it shows real time with their name and payment amount. So you don't have to call Genesis periodically for an update of who's coming. So truly, the deposit becomes the RSVP for both you and Genesis, so you know who's really coming.
Your personal invitation to view your golf trip
The name of the hotel and the courses you are playing with starting tee times per day
The various per person costs for double room occupancy, single room occupancy, extra night arrivals, extra rounds, 18 vs 36 holes a day, etc.
Any other important group leader messages you want your attendees to see
A real time view of attendees as they make payments
To view a SAMPLE trip online from past year, click here.