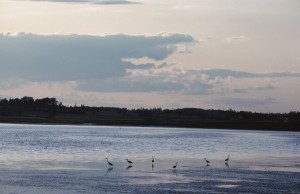 North East Maryland and the Upper Chesapeake region is a hidden gem we want you to discover.  Picturesque golf courses are intertwined throughout tricky waterways and tall grasses that promote challenges but also scenery that highlights the Mid-Atlantic.  If what you are looking for is a place to truly "get away" and escape to relaxation, this region is where your next trip needs to be.  With such unique attractions and dining locales that are one-of-a-kind, North East Maryland will give you the slow-down that you desire in a world that is constantly hustle and bustle.
Considering Golf in this region, a course that seems to stand out is Deerfield Golf Club.  This course is rated as Delaware's finest public golf and wedding venue and also is a member of the Raspberry Golf Trail, another partner of Genesis Golf.  With an onsite pub and grille, a beautiful layout and some of the best ratings, this course will not disappoint.  Moving into Maryland, one of the most impressive courses in the region is Bulle Rock.  The designer of Bulle Rock, Pete Dye stated, "I did not undo God's work," perfectly summing up this course.  It's truly one of a kind and brings golfers to the region every year.  A few other courses to name would be White Clay Golf Club, Inniscrone Golf Club and Chesapeake Bay Rising Sun.  All bring about the Chesapeake Bay feel and give golfers a freeing experience.
Although our North East Maryland location may not possess the big metropolis setting that Fredericksburg or Ocean City boasts, there are certainly some spots that will satisfy your taste buds.  In Elkton, Maryland there is a great place by the name of Minihane's Irish Pub and Restaurant that would be extremely worth your time.  Come on in and check out this festive pub with traditional Irish fare.  As you head east into Delaware, in the town of Newark you will find Iron Hill Brewery & Restaurant.  This establishment is dispensing house-made beers and will bring you traditional, comfort American food.   If I could describe the restaurant scene in one word for you in North East Maryland it would be; authentic.
Throughout this region you will find intimate attractions that honestly provide entertainment and fun to your LEGENDARY golf trip.  Are you on a deep summer golf trip?  Catch an Aberdeen Ironbirds baseball game at Ripken stadium.  Test your luck at Delaware Park Racetrack and Slots after hitting the links or slowdown a little bit and check out The Rockwood Museum or Delaware Art Museum.  A golf trip to North East Maryland and the Chesapeake is a trip for the escapist.  For anyone who wants to be a LEGEND and enjoy a true masterpiece in the Mid-Atlantic, this is for you.  Let us take you there.